Dear friends,
I start by praising God for a successful Trustee's trip to Uganda in July/August. We were blessed that our flights left and arrived close to on time, and all our luggage made it both to and from Uganda with us, no mean feat with the travel chaos that occurred at the start of the Summer! Please thank God with us for successful travel, a successful trip, and the blessings felt by both our Ugandan brothers and sisters and Jon, Rachel and Chris (who travelled with the trustees).
When we arrived in Uganda, the country was nearing the end of its long dry season, and prayers were fervent for good rains this year as they have been late the last few years which leads to failed harvests and lack of food. Whilst in our first few days it appeared the rainy season had arrived early and we heard of the terrible floods in the Mbale region (although we did not travel that far East). Indeed, we began to worry that we would not be able to travel to some regions as the rain can cause huge wear on the maram roads which make up a number of our local journeys. However, we continue to thank God that the rain stopped in time for the difficult journeys, and the tarmac roads which now make up a lot of the main routes made for swift and simple journeys in a lot of areas. Please thank God for his care and protection of our journey, we also join together to pray intercession for those caught in the Mbale floods that led to the loss of numerous lives, pray for those families who have lost houses, crops and loved ones, that they would feel God's love in such a difficult time. We have also heard that the rainy season has now arrived on time, let us thank God for his provision of rain to nourish the land and crops.
During our time in Uganda we came across a number of urgent prayer points. Firstly, there is a continuing governmental discussion on the closure of churches whose pastors do not have a certificate of training. There is great concern over this as some of the neighbouring countries have already started to follow this directive which comes from an East African agreement and applies to all countries in that grouping. Please pray that God eases the worries and anxieties of the churches and their pastors and that he places protection over them from this threat. Please also pray for the trust, as we discuss the measures we can implement and the paperwork we can provide to satisfy the government that our training meets their requirements. We thank God for the continued blessing that John Hall provides as he has guided us so far through this developing situation.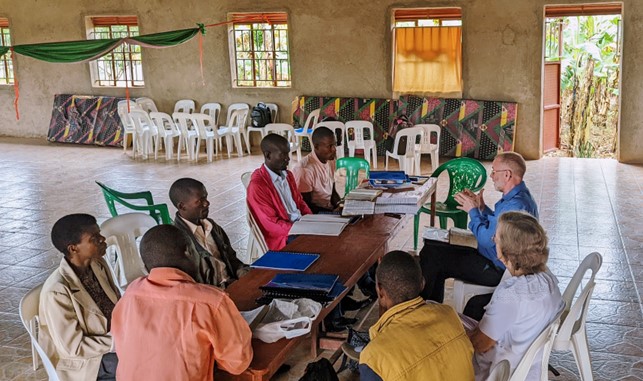 Jon and Chris sharing encouragement with the trainee pastors at Kakumiro
We also came across unease within the RPCU (our main denominational link in Uganda), as they have recently gone through a period of leadership change. The leadership roles traditionally rotate every three years however, more positions than normal were due to change this year and this has led to some confusion surrounding local hierarchies. In addition, driven by the governmental discussion regarding church closure the RPCU is in the process of implementing a more bureaucratic system. This has caused tensions within the denomination as some churches do not have paperwork, cannot afford it, or do not understand the requirements. Please pray for the new leaders, which include Richard Tusiime in Ruth as General Secretary, pray for them for strength of character, for Godly guidance in their new roles and for success in their roles. We thank God for the democratic system on which the RPCU is based and for their willingness to change in the face of new rules and guidance.
We also pray for our contacts in Uganda; all of them are struggling with rising food costs due to the pandemic, and the additional pressure of the fighting in Ukraine and the resulting rise in fuel costs has led to violent riots in the major cities. A number of the schools have had to close early because they cannot afford to feed the children. Please pray that the cost of living will begin to reduce in Uganda, enabling schools to feed their students and families to face a more secure future. Please also pray that the trust will be able to meet this growing needs; as the UK faces its own cost of living crisis we are facing some of the same monetary restrictions as other sectors. Whilst all current commitments and projects are safe, we would love to be able to support our Ugandan brothers and sisters in their time of extra need and pray that God will provide for that support.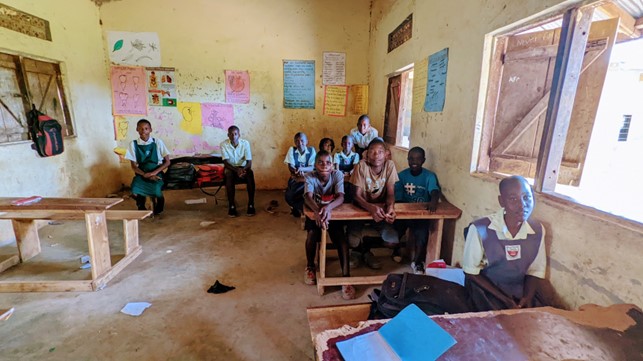 Only a few students stay at Kalasa (and other schools) while exams are marked and reports are written due to the costs of food. The others will return at the start of the new term.
Yet there were also great blessings in Uganda. We were so pleased to meet Grace, Samuel's wife who is an incredible woman; faithful to the Lord, a fervent intercessor and brilliant cook. We also spent time in the company of Shamah, Samuel's oldest son who is training to be a surgeon. His curiosity and cheerful spirit were a balm to our weary souls at the end of a long trip! We also had the joy of meeting three babies during our trip: Bernard's new daughter, Merisha who was eight weeks old; Charity's new son, Ray-Daniels, who was six weeks old and Frank's newest grandson, Sky, who was nine days old. It was such a blessing to share in the parent's joy and continue to forge deep and meaningful relationships with the families our Ugandan brothers and sisters. Please pray for all those we met, that they enjoy continuous fellowship with God and that God blesses their growing families and lives.
God bless
Rachel