1. Kibaale-Ssanje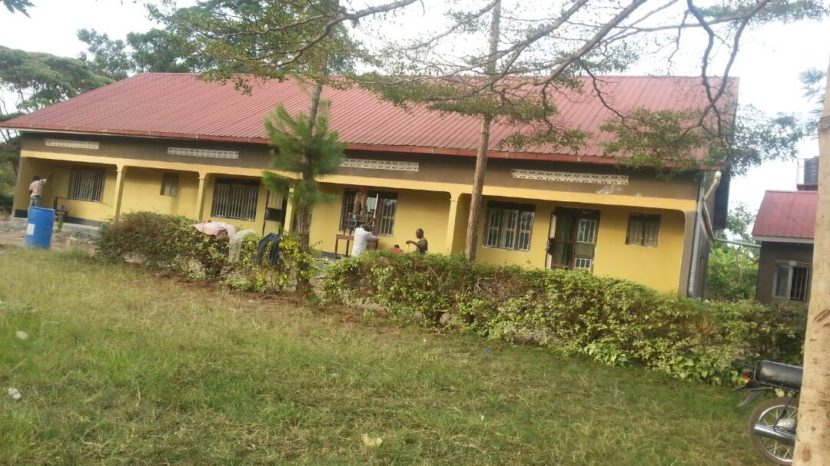 The first Spiritual Life Centre (SLC) began here in 2005. A purpose-built centre was built with dormitory-style accommodation and a separate kitchen that served as a base for most of the Trust's work in the following 10 years. It was originally intended that teaching would take place in the already-constructed church on the site but noise from heavy, tropical rain on the tin roof sometimes made this too difficult. Lectures continued, therefore, in one of the rooms originally intended to be a dormitory. After the initial two-year pilot project here in English a further one-year, pre-ordination course, was created.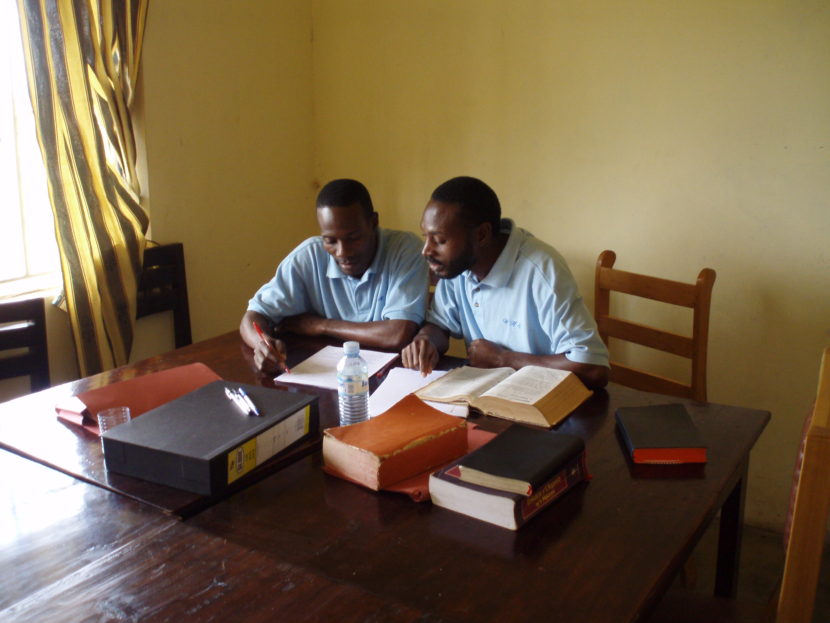 Patrick & Frank translating the course into Luganda
This was first taught in English and then translated into two local languages and local pastors were trained to teach it in those languages.
Kibaale-Ssanje was used to do all of this work although, since then, it has proved hard to recruit students in this very rural, under-developed part of Uganda. As a result, Samuel Muhumuza (the director of this SLC and pastor of the local church) has felt called to devise the FEEL Uganda gap-year programme which, should sufficient volunteers be found, would be run from Kibaale-Ssanje.
2. Wanyange
Following the construction of Kibaale-Ssanje SLC it was realised that these buildings should be less complicated for plumbing and, as was the original vision, should be dual-purpose churches and SLCs. This is how Wanyange (near Jinja) was built, with a large sanctuary/ teaching area and ante-rooms which can double as dormitories. The kitchen is a separate building, as is traditional in Uganda. Access to this SLC proved troublesome and in the ends generous UK giving meant that the rights were purchased for travel along the narrow lane. Even more troublesome was the construction of a water storage system and this has never been completed.
However, there have been several very successful series of training sessions held here in Luganda, under the directorship of Patrick Ggenza. In recent times 10-12 students at a time have been trained.
3. Nyamiyaga
Nyamiyaga SLC
The original vision for SLCs came about in this area, leading to this site, well off the beaten track near Mbarara, being chosen for the third SLC. A similar model to the Wanyange building was used, though all attempts to suggest a smaller building failed! Kitchen and bathroom facilities are provided away from the main building, which doubles as a local church, planted from the director Richard Tusiime's own church in nearby Ruti. This has been probably the most successful centre so far, because of very positive local church planting schemes leading to many new church leaders seeking training.
The course here is taught in Runyankore, which can be understood by both Runyankore and Runyoro speaking students. Richard is helped by several local pastors but especially by Wilberforce Baguma. 10-12 students are taught at a time here.
4. Kakumiro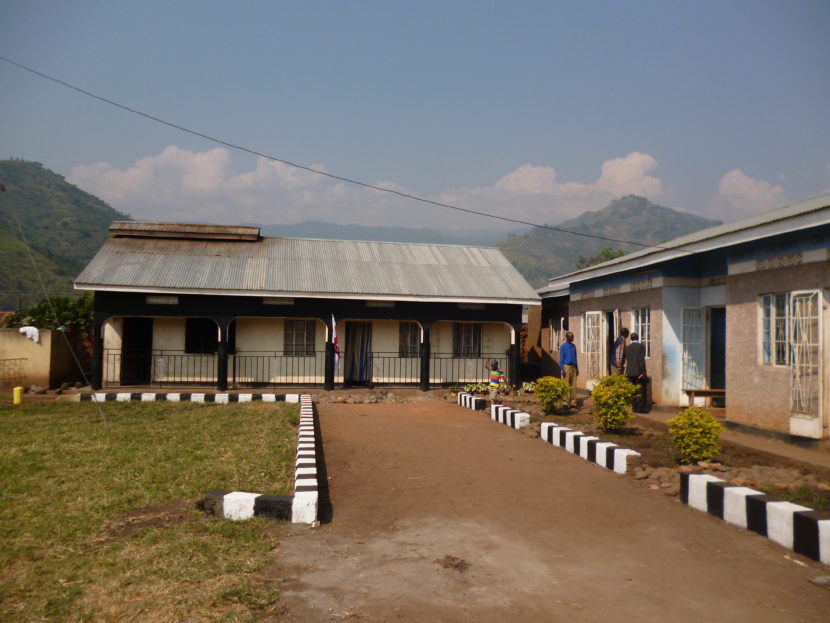 Bugoye SLC
The SLC serving Western and Luwero Presbyteries of the RPCU was originally situated in Bugoye, near Kasese. This employed a different model, being sited at the Ebenezer Children's Centre, with its orphanage and school facilities. The SLC operated in school holidays, when classrooms and other existing facilities were available, meaning that only a kitchen and store room (later converted to be housing for visitors) were the only buildings which needed constructing.
However, the SLC later moved to Karokajenga (Kyenjojo) and then to Kakumiro where there are currently more student pastors in need of training. The current director, who teaches in a mixture of Runyankore, English and Luganda, is Julius Bigirwenkya, assisted particularly by Bernard Byamukama (the Karokajenga director and pastor) and Moses Baguma. 10-12 students can be trained here, at this most recent centre.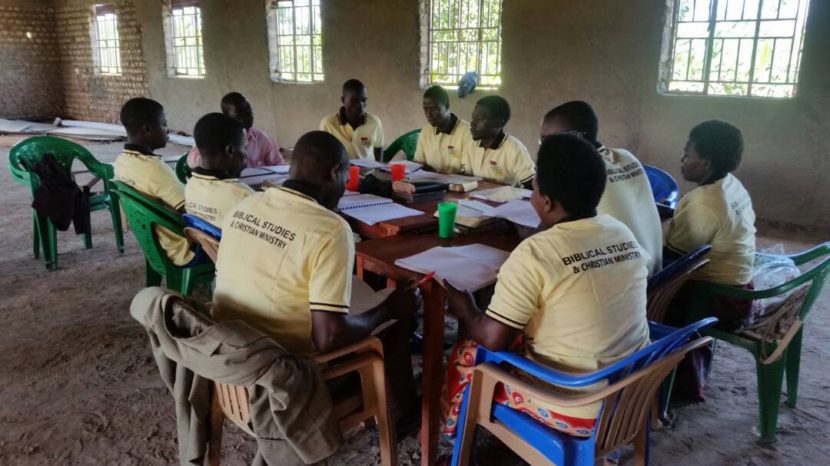 Students at Kakumiro SLC