The team began their ministry in Jinja on the 27th July following a short time in Kampala where
they changed money, bought necessary items such as water, and made a couple of fixes to the
car! Unfortunately, a major part of the Jinja road was shut for improvements which meant the
team had to travel through the outskirts of Kampala. These are normally very busy areas, which
is one reason that the team normally travel using the alternative route, but with the alternative
being close the traffic was very bad and the team arrived at Wanyange SLC much later than
planned.
The team were still able to share a short time with those on the training course, and the senior
pastors on the course and were presented with a number of updates and requests, particularly
from senior pastors including Patrick Ggenza, Steven Hamya, Steven Biso and Deus Kyomukama.
As the sun sets at 7pm in Uganda and a number of roads are unlit and in bad condition
throughout the country, the team headed back to the hotel for dinner.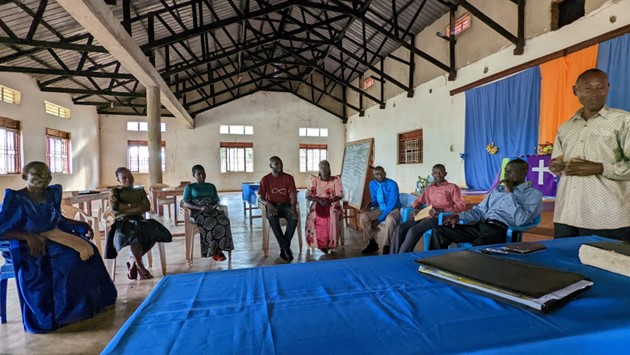 Photo: The current students with the senior pastors at Wanyange SLC
The following day the spent time with the pastors at Wanyange in the morning and were able
to share encouragement with those training, as well as answer a number of questions from those
on the course. Some of the questions definitely stretched the brains of the team including 'how
do I know if I am a good leader?'
The team were then able to travel on to share with Simon Muwezera at Masese. It was good to
see the building work that was happening on the site of his house, which sadly burnt down at
the start of the summer while Simon was at his son's wedding. The site is now being used to
build a community centre for the children in the area, with the top floor being reserved for more
classrooms for Simon's school.
Photo: Simon's son Julius outside the building work behind the church.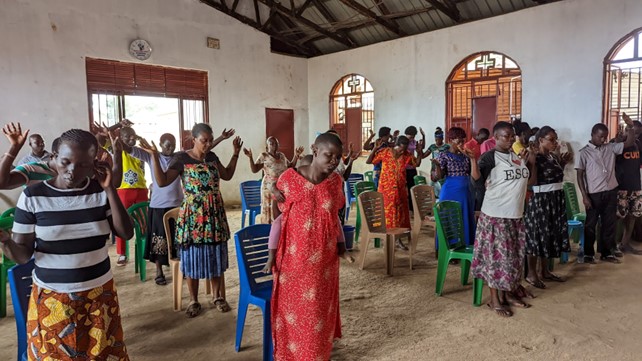 Photo: The congregation at Simon's church in Masese
---

The main concern in Jinja was the governmental discussion of introducing
checks on pastor certification. This is an East African countries scheme,
rather than being purely Ugandan, and would require all church pastors
to have appropriate certification, otherwise, their church will be forcibly
closed. Those in Jinja, particularly Deus who raised the concern, are aware
that forcible closures are already taking place in Rwanda.